In the past week, we wrote down potential items, pieces of work, art, song, and other things of the sort to be aspects that could potentially help our piece, including the objects, images, and songs that we initially brought in for inspiration, whether we end up using the pieces or not. We then tried looking up different exercises by other theater practitioners whether it be for devised theater or not to see if they could potentially aid us in our journey of discovering our devised piece. The main theater practitioner that we ended up looking at was Stanislavsky because we felt that his ideas and concepts related most to what we wanted to achieve with our piece. The main approach that Stanislavsky always took was the aspect of trying to relate to whatever character you are trying to portray and truly feel what your character is feeling, and since our piece is based of personal experiences it was easy for us to understand. One of the exercises that we all ended up liking and found really touching and personal, and that made us very vulnerable gave us the capability of trusting was an exercise by Stanislavsky called "what if". The exercise essentially was having us all face the wall and some what say a statement of "what if you were doing such and such" and we would stand still but have our body and face react as if we were in that moment. I personally really felt the exercise work when one of our group members had said "imagine if you had just found out that you lost someone very close to you" and a few of us including myself actually started tearing up. Below I will put some of thoughts that I was feeling in that moment.
In our next class period, we then decided to work on moments and just have each of our members individually interact with different objects that would be on our set that would portray someone moving away, so moving boxes, furniture, and other memorabilia of that sort. It opened us to find different ideas and how we want to go about discovering our individual moments. We also took a time lapse of the work we did that day.
Powered by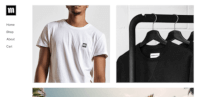 Create your own unique website with customizable templates.