Collaborative project

Work in progress
​In our most recent class session with already haven created our agreements, we were given free reign to do whatever we wanted to initiate the devising process. In the class before, we all brought in different objects that were meaningful to us. One of the themes or concepts that I found was apparent in all of our objects was childhood and fears/monsters. Childhood was an obvious one considering most items that we tend to value we either find or receive when we are young. Monsters, however, was a theme that I wasn't expecting, but came up multiple times in songs, in novels, in collections of art in some way or another. We thought that both of these themes or concepts would provide a good starting point for our piece considering we've all experienced some kind of childhood fear. Our group decided to take a large piece of butcher paper and just right down different word associations that we were having. We eventually came up with several different categories that related to fears whether they were from our childhood, current fears, imaginary fears, real-world fears, causes of fears, and even securities that soothe us from experiencing fears.
After that, we tried to just come up with some initial ideas that we would want to incorporate into our impact and what audience we are aiming for. We eventually established that in some way we wanted our audience to experience whatever fears we will present, whether or not it's because they're familiar with that fear or because they're empathetic and understanding of another's fear.
Powered by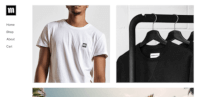 Create your own unique website with customizable templates.