Collaborative project

Work in progress
We're getting to a point again where we're not necessarily stuck or in a rut so much as we're just needing to get up an do things. We've learned that improve is beneficial for becoming more vulnerable with each other and for opening up to different ideas and conversation. However, like I've mentioned before, utilizing improve when it comes to the topic of fear or anxiety isn't always productive or helpful to one's own mentality and to the material that will end up in the final production.
We've established our roles, both as characters and in terms of the process. We decided that I will play the role of Dr. Johnson, the therapist, due to being the tallest and oldest looking. We also agreed upon my role as Director, due to my active engagement and usually acting as the catalyst for a majority of our conversations or exercises.
We also agreed on some technical elements that we want to include as well, so as not to limit what we're capable of doing with this piece. For the phone the call that will take place between Maggie, our main character, Dr. Johnson, and Sam, Maggie's older brother who's away at college, we're going to have the call be on speaker phone, but have the audio for Sam be recorded ahead of time. We also decided that to show the practice run through of Maggie's Senior Presentation where she ultimately panics and doesn't finish it, that we will project the video that was recorded of the presentation. Dr. Johnson will mention how she has the recording of the practice presentation and that she wants Maggie to watch it so she can show her how she appears and what can possibly help. When the video plays, rather than have it play off of the laptop, it will be projected on the back wall of our set so the audience can see it as well. After it plays for some time, this will upset Maggie and have her slam the laptop shut ending the projection. One of the other ideas that I came up with that I hope we end up using is that at the end of the therapy session after Dr. Johnson gives maggie some tools on how to help her with Anxiety, that Dr. Johnson and Maggie will leave the room, but Anxiety will stay and open the laptop backup showing the projection of Maggie's final Senior Presentation where she ultimately succeeds.
Powered by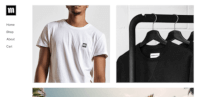 Create your own unique website with customizable templates.