Theatre can be seen as a sub category of the arts under performing arts as a spectacle. Imagination can be defined as

the faculty or action of forming new ideas, or images or concepts of external objects not present to the senses or

the ability of the mind to be creative or resourceful. Both of imagination's definitions involve creativity and the ability to make an understanding of something without necessarily knowing how or why.

Previously in our TOK class, we had a lengthy discussion, which lasted over a multitude of classes, about art as a way of knowing and what exactly makes it a way of knowing. In each of our ideas or concepts that we thought of or that were brought up in the discussion all related somehow to creativity, which I think inadvertently is related to imagination. I think this idea can also be applied to theatre as well. For most pieces of theatre whether they are fictional or based off of true story, the writer and director require some sense of imagination when it comes to the writing of the script, the creation of the characters, and the how they chose to develop the story itself.

If there was no imagination in theatre, whether it's in the creating process, during the spectacle, or even in conversation, it would make theatre so easy. It would be so easy to the point where everybody would be doing it, and it would no longer be considered an art really, losing its special value.
Powered by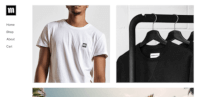 Create your own unique website with customizable templates.