​As our final project for IB theatre for third quarter, after watching a productions of Richard Sheridan's The Rivals, we were split into groups to do scenes. After several weeks of practicing on our own, we then came together with our teacher to film what progress we had made with our scene. We would then watch the video and look at what we were doing and decide what things we wanted to change, work on, or keep the same. Then for our final performance, which included costume, we performed and filmed our final scene.
I definitely felt rushed during the final performance and that I hadn't acted to my full potential. I had been dealing with a lot of difficult things outside of class, which easily impacted my performance and how I acted with my partner.
I learned that when acting you have to be in the moment and not allow any outside drama into your acting environment and how if you do let the drama in, how quickly it change how you function, whether it's with acting or real life. I know now that how I really need to become my character when acting so I have to deal with the issues in the scene and not my own.

Powered by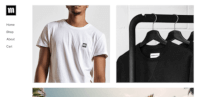 Create your own unique website with customizable templates.