Intention

I want each of the characters to be real and human, not necessarily relatable, but understandable.
I want the set to be able to lend to the the story. I want it to be interesting and obscure, but not to the point where it detracts from the story
The play is going to be about understanding the "hell" that Tom went through that caused him to want to leave his family.
I'm going to stage it present day, but in such a way that it doesn't appear to be set in a particular era, universal almost.
I want to differentiate each of the characters, so that they each have their own individual problems but keep those familial relationships between them.

Impact

I don't want the audience to sympathize with the characters, but rather understand them to the point where they feel the emotions that the characters are portraying.
I want them to initially feel uncomfortable, but as the show unravels, I want them to slowly get more and more drawn to the story.
I want them to think more about the unfortunate circumstances that families are put in and how they must deal with them; that these kind of circumstances happen in real life.
At the end, I want them to be slightly shocked and confused about what they've just seen.
I want them to have discussions afterwards, and come to their own conclusions about what they think they've seen.
I want them to be more cautious about the actions and decisions they make, and keep their family close because they never know what could happen.
Powered by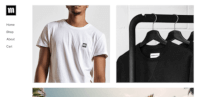 Create your own unique website with customizable templates.