It wasn't until our most recent theatre class that our group realized that we should probably title our devised piece. We knew we wanted it to relate to the subject matter and we tried to focus within the containers of our piece. Our main containers were the time period which is the 1920's in New Orleans as well as another container that might be hard for others to comprehend but was the idea of each character being dressed in all black and having a maximum of 2 props and/or costume pieces. There was also the container of not really having a set, so we didn't really have a way of having set entries and exits
I knew that considering our piece takes place in multiple locations (as well as the fact that we didn't really have a budget) that it'd be easiest to have a minimal set of two chairs and a trunk that doubles as a table. Just realizing this now, but it'd probably help to tape down the specified doorways for the certain locations to make it all the more easier for our audience as well as actors to understand.
Even though we have multiple containers, my group, including myself, has found it much easier to have minimal props and set pieces so that we don't have to worry that much on what we are working with and rather who we are working with.
Powered by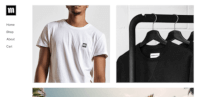 Create your own unique website with customizable templates.