In previous projects I have been involved with, there are many different approaches to take and ways to get to the final product. In one of the after school's plays, Secret in the Wings, the original script was a devised piece, so for our performance we were able to have a more free way of developing our ideas and characters. We would look to the script as our main resource. In the devised piece I worked on for my sophomore year, our group wrote a main script to go off of and used that as our backbone of the project and would edit and change ideas as the project would go on. For both of these pieces there were different containers that we worked with and usually had a main point or theme to get across.
When my current devising group looked at other professional devising companies, we noticed the main idea of trial and error. We looked at a Fevered Sleep, a devising company from England who constantly reinvents the process as well as the project to make each new experience different. Their main objective is to share their discoveries with the outside world, and for the outside world to make people think and get a sense of familiarity. For another group, Fork Beard, they usually focused on the sensory aspect rather than a thought or idea and usually tried to achieve a main theme or aesthetic.

Powered by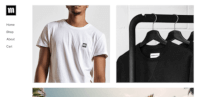 Create your own unique website with customizable templates.