Not too long ago, our theatre class was split off into partnerships to work on a "body review". The premise of the exercise was to try and imagine physical feelings without being in that particular situation. First we would sit or lay down and try to imagine being in an uncomfortable situation while our partner would list off different parts of the body and we would describe how it felt. We would then imagine a situation where we were more confident and do the same as before and then our partner would try.
It was mind boggling to actually be able to imagine that specific situation and how your body will almost focus on the situation as well. I was able to learn about the way my body works and how it can affect my mood or how my mood can affect my body.
I knew before that a big part of theatre is body movement and body language, but I never realized how much it can affect someone if they just imagine a particular instance and how it can help them with their character on stage.
Through this exercise, I discovered how much imagination and thought processes can and will affect myself as well as the rest of my class. With this new found knowledge, I shouldn't be afraid to use it and not work myself up over my imagination and just be my character.
Powered by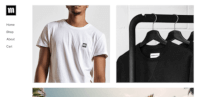 Create your own unique website with customizable templates.