Collaborative project

Work in progress
In our devising session today, we looked at different devising companies that we could use as inspiration. We ultimately decided on using Station House Opera as inspiration mainly due to the types of technical elements we want to incorporate into our peace. One of the technical elements they most commonly use is projecting a live feed of film onto another group of people that interact with the recording. We realized that two of the technical elements that we want to use are similar to that, those being the recording of Maggie's presentation onto the back wall, and the prerecorded phone call that the actors interact with that's not an actual interaction.
In our following devising session, we filmed and edited both the practice presentation and the final presentation that will be projected in the back wall. We also chose to run through the piece in our actual performance space to work out some of our blocking and to allow our Light Designer to document and adjust lights as necessary. We also are currently working on finalizing any props, stage elements, and costumes.

Powered by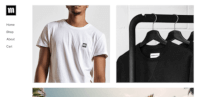 Create your own unique website with customizable templates.