Collaborative project

Work in progress
In this last week of devising, we worked on finalizing each of our stage elements and made a final stage plot. We wrote down a list of everything that needs to be on stage whether it's furniture, props or our costumes. We also were finally able to record the voice overs that were necessary for the phone call, and once it's edited, we'll be able to actually use the recordings when we rehearse instead of just having another group member reading the lines from off stage. Both the voice of the brother of Maggie and I noticed the difficulty with just recording single lines and not having any previous context. We realized that it would be helpful for me to read the line before and than hit record and have him read the next line.

I was able to find helpful youtube videos that will allow me to edit the sound to make it sound like an actual phone call instead of a recording. We're at the point now where once we finish tweaking a few tech elements, we'll be able to just run through our piece during each of our class sessions.
Powered by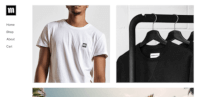 Create your own unique website with customizable templates.