Collaborative project

Work in progress
I'm a young girl who has constantly had a hard time figuring out who she is and where she belongs. I never faced any extreme form of bullying and come from middle-class family with siblings that I never fought with. I remember always thinking that my friends lives were always much more exciting. I'm the baby of the family and in my single digit years I always followed my older siblings in whatever they were doing at the time and for a long time I didn't really have any of my own opinions.

For most of my youth, I was raised in the rather competitive north-east. It always seemed liked everyone blended together and there was no individuality. I moved to the pacific north west before my eighth grade year and it seemed like everything slowed down a whole lot. I was no longer clumped together with everyone else and stood as my own person.

I was fortunate enough to be put into private school for my education. I'm grateful for the small class sizes because as I got older, I learned to speak my mind in class and was even praised for it.

I've grown up in a time where technology was also readily accessible and never had to question it. When I started developing my own taste in music that wasn't whatever my sisters were listening to, I learned to appreciate small artists and their passion for what they do and is something I've always wanted to replicate in my own life, whether it's with music, theatre, or even something that's not in the arts.

I was raised as a Quaker in my primary years, which encompassed the belief that there is one light and that light exists within everyone. I always appreciated it as my first religion because it was never forced and was open to questioning. It allowed for me to develop my own personal beliefs and spirituality.
Powered by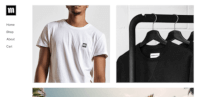 Create your own unique website with customizable templates.