Collaborative project

Work in progress
​With our last devising session, we went back over the different ideas we came up with and how they could be portrayed in different ways and different contexts. One of the elements that we all liked and agreed upon was how we would incorporate the personification of fear itself. After that, we were having a hard time going farther than that and decided to do some improve games to loosen us up and to make ourselves more comfortable and willing to be vulnerable with each other. The one improv game that we mainly used was "freeze," which has two people start acting out a scene, and at any point in time if there's a character making interesting movement or is in a position that looks like something else, another person can yell "freeze," and tap out with one of the people and take the scene in a different direction. One of the things that I noticed after class was how whenever there was a scene where someone was meant to be afraid of something their instincts were to scream or run away, and this was with everyone.
When I was initially thinking of exercises to use to help with the devising process, I initially thought of Stanislavski's "what if" exercise where people stand in a circle with their eyes closed. Each person will go around the room saying "what if you were in a certain place or in a certain circumstance" and for the next minute or so everyone would try and physically put themselves in that moment. I thought this might help, but after the improv games, I realized that probably wouldn't be the best exercise when it comes to everyone's mental health especially since our subject matter has to do with fears and anxiety.
I then thought it might actually help more when it comes to portraying someone who is afraid to utilize some of the elements that I learned from the theatre theorist Rudolf von Laban that I studied for my solo project. One of the elements that I learned previously from a director was the reason why she utilized Laban's techniques was because it wouldn't emotionally abuse her actors, mainly because the Laban's work was based on certain types of movement rather than emotions.
Powered by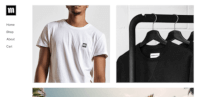 Create your own unique website with customizable templates.