Collaborative project

Work in progress
​In our last week of devising, we developed our piece more regarding deciding what we each wanted to include or make sure that happened in our piece. We ultimately decided on the scenario of having our main character who has been having issues regarding school and dealing with their parents, and it's gotten so bad to the point of their parents forcing them to go to a therapist. While there, we see that the anxiety and fear that they have is actually real, but no one is capable of seeing them. The fear sort of acts as an imaginary friend that fuels the main character's fears. We decided that the reason why no one else can see the anxiety is that the main character has never been willing to talk to anyone about them, therefore not allowing anybody else to see them.
We talked about general points that we want to have occur within the plot of the piece such as that the reason why the main character is seeing a therapist is that something bad has happened that has caused bad repercussions or will in the future if the main character doesn't sort out their fears. We also decided that at some point while interacting with the therapist, the main character will reach their tipping point and share with the therapist their fear, causing the fear to become visible. Overall, we've developed a basic structure and just need to process some of our key elements further and to try out some more of our ideas physically.
Powered by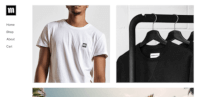 Create your own unique website with customizable templates.