Collaborative project

Work in progress
Overall, I couldn't be more happy with how our devised piece end up going in terms of the presentation of the piece and the question and answer session we had following the presentation. I was struggling in terms of my anxiety (no pun intended)before the piece mainly in terms of my line memorization, because I know that if I don't have full confidence when saying my lines, I won't be able to portray my character to the best of my ability. In order to avoid this we spent most of our time after school and before our presentation either running the piece or simply running through lines. When it came time to perform our piece, we had a decent audience comprised of students, teachers, and family members. Our performance went smoothly with only minor slip ups, whether technical or in terms of lines, but it was never anything noticeable enough for the audience. We were only aware of it because of how well we knew the piece.
In terms of the question and answer session, we definitely were able to get a lot of feedback, impressions, and many questions. Some of the impressions that the audience gave that stuck with me was one comment about how a lot of times kids don't realize that when someone says something in the heat of the moment, it's not always meant; that they shouldn't always take it personally and should always go talk to the person. Another audience member also acknowledged how there always is someone to talk to and with where we are at now in the school year with final presentations and exams coming up, it's necessary for kids to acknowledge their anxiety and work through it rather than just trying to put up a wall.
Compared to the Collaborative Theatre Project from last year that I took part in, I think it was definitely easier for the audience to understand what were trying to do which ultimately affected how they felt afterwards, leaving them with a better understanding or new insights on anxiety. I know this is my last IB theatre assessment at West Sound, but I think I will be able to apply all of the skills I've learned through these different processes to my work in the future, whether it's theatre-related or not.

Powered by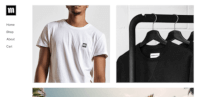 Create your own unique website with customizable templates.