Collaborative project

Work in progress
I was able to find an article about the devising theatre company The Krane's most recent piece titled

​Underground.

What's rather fascinating is that the piece itself isn't describing the piece itself, but rather the process. Vanessa Garcia who's a member of The Krane describes that the devising process itself for the entirety of the team is like "living in a kind of metaphoric underground bunker of ideas wherein what we are doing, in essence, is building a ladder to the surface of the contemporary stage." What's at the top of the ladder is meant to be the end result of their devising process leading the company to the audience.

Vanessa describes how their devising process occurs similarly to how most would, starting with lots of different improvisations and collaborations that somehow forms into a script of sorts that gets changed and developed after each devising ses

sion. Vanessa explains that the starting point for the piece was the questions "What does it mean to make art in the twenty-first century? Where does art incubate today? Is there an 'underground' anymore, or is it—for good or bad—all "surface?" What is surface? What is underground?" along with the novel

A Visit From the Good Squad

by Jennifer Egan. Vanessa explains how a majority of the ideas the the piece is based off of and along with how the relate the surface to the ground comes from the second of the chapter. This chapter defines many different forms of surfaces whether it's the surface of a painting, the surface of a sculpture, the surface of the ground, or the surface of a story or idea. The 'underground' is that next level under the surface that allows for more depth both physically and mentally.Vanessa explains how one of the hardest things to do that one of the character's from the novel is capable of is the ability to go beyond the surface to the underground but is also capable of releasing himself and coming back to the surface.

Vanessa believes that that the devising they are doing isn't to ultimately create an end result but rather to study the process in doing so. Vanessa describes the process as "a form that incubates and lives most of its life underground—often the process of creation extending for much longer periods of time than the life of the performance. It lives underground and then surfaces, and, as it surfaces, it reinstates the underground."
Powered by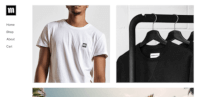 Create your own unique website with customizable templates.