Collaborative project

Work in progress
I've participated in many after school plays before. They typically follow a similar format in how we go about creating that piece of theatre. Usually the director has a specific vision that they start out with and as the rehearsal process goes along, that vision might change based on how the actors are working. The starting pint is the script usually and we always read through the script initially and describe our reactions to the play itself. We then, as a cast, try to come up with a purpose statement that usually starts with "The reason we are doing this play..." mainly because it helps convey our overall message to the audience, but it also aids the cast itself, whether it's the actors or the tech crew, trying to find some semblance of focus and meaning. One of the exercises that's not uncommon for us to use to help us actors establish our characters is call 'hot-seat'. This exercise consists of each actor being interviewed about themselves as their character, to help them develop and become that character even more.

What's also fascinating to me is how I've been able to identify the different artistic approaches that I've taken when it comes to the lab I executed for my Biology IA. I based my experiment off of one that I had researched from a long time ago and had an initial test run that ultimately failed. I had to try manipulating different elements and variables in the environment that my experiment took place in. I put a strenuous amount of effort into that project using up all of my class time and coming everyday during my study hall to either check and record my results or to completely restart the experiment. I had to look at other research that scientists had done on the different ideas I was experimenting with to understand not only what normally happens in these instances, but understand what happens when those different variables are changed. Even though I ultimately was incapable of proving my hypothesis, I still showed a tremendous amount of effort and passion in what I was trying to prove and what I was trying to study and observe.

​
Powered by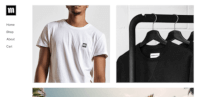 Create your own unique website with customizable templates.